Picture this: it's autumn in the Netherlands and you are walking on ancient streets with your markers in your bag and another visualiser right next to you.
That is what happened during the EVP weekend in Nijmegen.
In October 2022, Maaike opened her co-working space and atelier to all EVP-members that wanted to join for a weekend of drawing fun and co-working. We shared skills, markers and laughter.
An EVP Weekend in the Netherlands
While preparing for the event, the EVP core team members were dreaming about a relaxed weekend. We didn't want a tight schedule, because we wanted to be able to give space to spontaneous action and enjoy the city and culture while we were there. That's why we called this weekend a visual retreat.
We did schedule the opening of the weekend, a raffle, an urban sketching city walk and a visit to a museum. What spontaneously happened was a workshop about drawing characters, a book swap and energisers that made us work together.
During the event you couldn't open any social media without noticing some pictures and movies of the visual retreat. Thanks to all of the participants for being there and sharing the joy.
What we see when we look at the pictures is laughter and relaxation.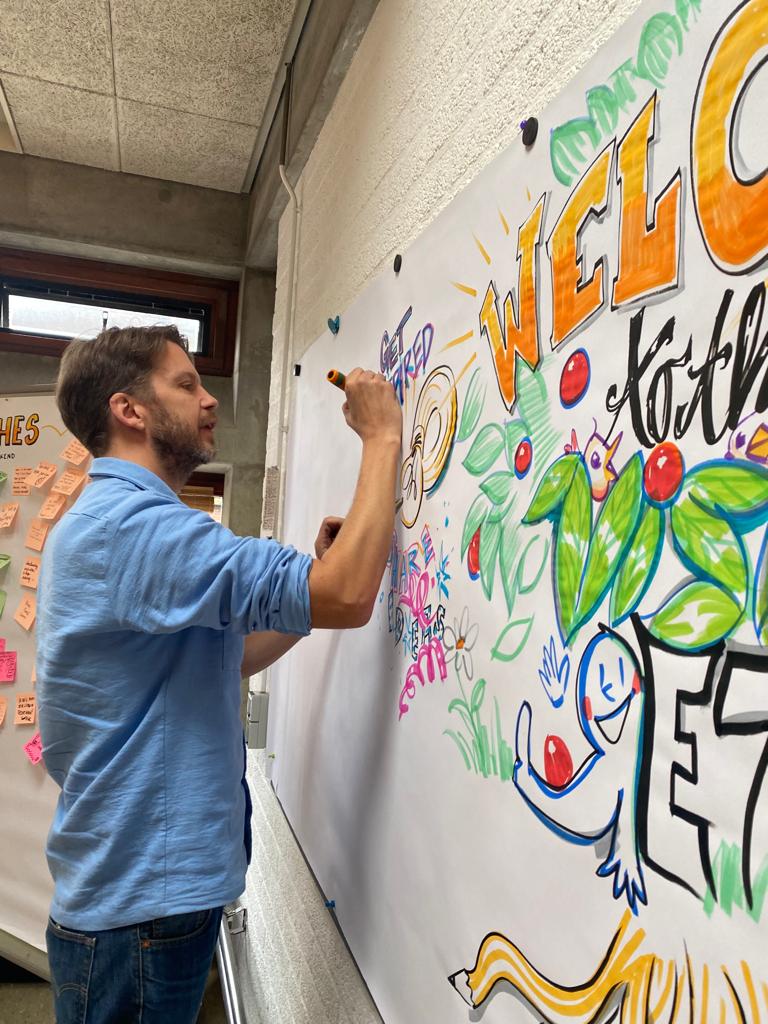 What did you like best?
We asked the participants "What did you like best about the event?"
"It was a very creative, kind and fun group of visual people. Being together & meeting everyone was so nice. And I loved the parts where we could talk to each other and the next minute we would draw together. Very relaxing!"
"Great get-together! To meet colleagues, exchange ideas. Especially when I work as a self-employed Graphic Facilitator it is so nice to meet people who do the same work, have the same interests and love talking about it! (I do not know many people who get super enthusiastic when talking about markers). Good exercises and great energy! Great Maud showed all her books. Miro board was great! Liked the flip over exercise where we had to 'draw' solutions and move to the next in one minute! Great results!"
"The very relaxed and everybody included atmosphere!"